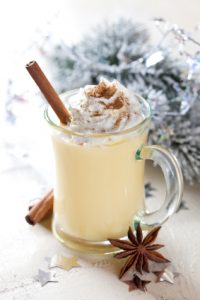 There's no better time of the year than Christmas than to be sipping on a home-made glass of eggnog.  With just a few ingredients and some whipping, you can create your own holiday treat everyone is sure to love.
Ingredients
6 eggs
1 (16 oz.) can sweetened condensed milk
1 teaspoon vanilla extract
1 quart milk
1/3 pint heavy whipping cream
1 pinch ground nutmeg
1 pinch salt
Directions
1.  Beat the eggs; mix in the condensed milk, vanilla, milk and salt
2.  Beat the whipping cream until soft peaks form.  Fold it into the egg/milk mixture.
3.  Sprinkle with nutmeg and serve cold.
Makes 8-12 servings